Interpol: A Sound to 'Admire'
Set List
"The Scale"
"No I in Threesome"
"Rest My Chemistry"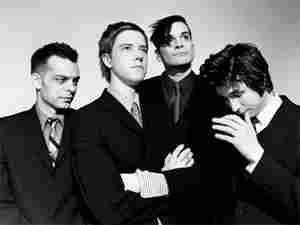 Interpol rose to mainstream success upon the 2002 release of its first album, Turn on the Bright Lights. Mixing throbbing bass and choppy, sparse guitars, the group's music recalls the melancholy likes of Joy Division, while still sounding contemporary.
The band's new third album, Our Love to Admire, finds Interpol modifying its sound by adding keyboards, which guitarist Daniel Kessler calls the fifth member of the band. The result is another creative and commercial success in the U.S. and beyond.
Support XPN
Stories like these are made possible by contributions from readers and listeners like you.