Ramiro Musotto: New Brazilian Sounds
Song List
"M'Bala"
"Nordeste/Beradero"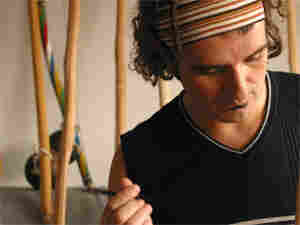 Ramiro Musotto is known for his exceptional and innovative work on the berimbau, a one-string percussion instrument often used in Brazilian capoeira. His music fuses together Latin American folk, carnival samba and Brazilian pop, juxtaposing these traditional forms with African rhythms and electronic sounds.
Musotto's latest album, Civilizaco & Barbarye, just came out in the U.S.
Purchase Featured Music
Album

Civilizacao & Barbarye

Artist

Ramiro Musotto

Label

Circular Moves

Released

2006
Your purchase helps support NPR Programming. How?