Documentary Spotlights Playwright Tony Kushner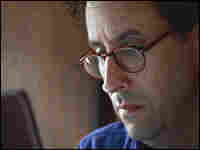 A new PBS documentary, Wrestling with Angels, chronicles the personal and professional life of playwright Tony Kushner, best known for his Pulitzer Prize-winning play, Angels in America. The new film follows the artist and activist for three years, from Sept. 11, 2001, to the 2004 presidential election.
Kushner and filmmaker Freida Lee Mock discuss the new film, which airs Wednesday on PBS.
Related NPR Stories
Web Resources