Baseball Doping Report Names Dozens of Players
Tom Goldman reports on the Mitchell investigation on All Things Considered (Dec. 13)
Former Sen. George Mitchell's report on the use of performance-enhancing substances in Major League Baseball is out. Mitchell presented his findings Thursday — including the names of dozens of current and former players. What does it mean for baseball?
MELISSA BLOCK, host:
This is ALL THINGS CONSIDERED from NPR News. I'm Melissa Block.
ROBERT SIEGEL, host:
And I'm Robert Siegel.
Say it ain't so, Moe and Roger and Andy and Chuck and Miguel.
BLOCK: And Jason and Jeremy and Gary and Barry and Eric, Benito and Randy and dozens of others who were named today in the Mitchell Report on the use of performance-enhancing drugs in Major League Baseball.
SIEGEL: Former Senator George Mitchell spoke in New York today.
Mr. GEORGE MITCHELL (Former Democratic Senator, Maine): For more than a decade, there has been widespread illegal use of anabolic steroids and other performance-enhancing substances by players in Major League Baseball, in violation of federal law and baseball policy. The response by baseball was slow to develop and was initially ineffective. Other investigations, no doubt, will turn out more names and fill in more details. But that is unlikely to significantly alter the description of baseball's steroids era as set forth in this report.
BLOCK: We're touching on the Mitchell Report at points throughout the program today. And NPR sports correspondent Tom Goldman joins us now.
Tom, 400-plus pages in this report, a lot to summarize, but what would you say the key findings are?
TOM GOLDMAN: My speed-reading ain't what it used to be, Melissa, but I will try.
BLOCK: Uh-huh.
GOLDMAN: Everyone involved in baseball over the past two decades: commissioners, club officials, players' association, players. They all share, to some extent, the responsibility for the steroids era, George Mitchell said today. There was, he said, a collective failure to recognize the problem as it emerged and deal with it early on.
BLOCK: Now, of course, we mention some of the names that were popping up. And that is one of the sensational parts of this is who exactly George Mitchell names in his report.
GOLDMAN: Dozens of players, and they range from superstars to marginal players. But certainly two that jump out, two that we really haven't heard that much about before, although there have been a few reports: Roger Clemens, thought by some to be the greater - perhaps the greatest pitcher ever, certainly the greatest pitcher of his generation, an 11-time all-star, seven times won the Cy Young Award. He and Andy Pettitte, who was his teammate both with the New York Yankees, pitching teammate - and with the Houston Astros in more recent years.
And they were both hooked up with a person who testified to George Mitchell, a personal trainer named Brian McNamee, who is a strength and conditioning coach for a couple of teams where these guys played. And according to the report, McNamee injected Roger Clemens with steroids several times in 1998, 2000, 2001. And then he also injected Andy Pettitte, according to the report, with human growth hormone to aid in repairing an injury in 2002.
BLOCK: Tom, George Mitchell today seem to make a very clear point that he didn't think baseball should impose discipline for past violations. He talked about a fresh start for these players unless it were really egregious cases where they needed to protect the integrity of the game. That seems like something that will be pretty controversial.
GOLDMAN: It will be controversial. Of course, everyone is trying to pore through this thing and figure out, well, what are the egregious transgressions here and that will be forthcoming as everyone goes through this. But, you know, he talked about his work in Northern Ireland in 1998 when he tried to broker - when he did broker a peace accord there between Catholics and Protestants, and how he convinced the warring parties there to leave the past behind and move forward. That's his very strong message to baseball today as well. Leave the past behind. We need to know about the past, but leave it behind. Let's move forward.
BLOCK: And in terms of moving forward, he does come up with some ideas for how to fix this problem or at least address it.
GOLDMAN: Yeah, he does. Everything from, you know, stiffening drug testing to having an outside independent agency oversee the drug-testing program to allow steroid investigations, to look at things other than positive test as investigators go after potential dopers.
BLOCK: Okay. NPR's Tom Goldman. Tom, thanks a lot.
GOLDMAN: You're welcome.
BLOCK: And our coverage of the Mitchell Report continues at npr.org. You can read the full report and get a timeline of the baseball steroids investigation.
NPR transcripts are created on a rush deadline by Verb8tm, Inc., an NPR contractor, and produced using a proprietary transcription process developed with NPR. This text may not be in its final form and may be updated or revised in the future. Accuracy and availability may vary. The authoritative record of NPR's programming is the audio record.
Report Exposes Extent of Steroid Use in Baseball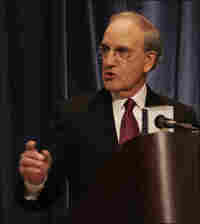 Stan Honda/AFP/Getty Images
G. Newman Lowrance/Getty Images
Related NPR Stories
Jed Jacobsohn/Getty Images
Major League Baseball has "a serious drug culture" in which steroid use is "widespread," says former Senate Majority Leader George Mitchell. His long-anticipated report on the use of performance-enhancing drugs in baseball was released Thursday, culminating 20 months of work.
No other sport in the U.S. has launched such a comprehensive investigation of doping within its own ranks. Here are some questions and answers about the report — and the problem it seeks to remedy:
What were the major findings of the Mitchell Report?
It found "a serious drug culture within baseball," one that touches every one of the 30 major league teams. The drugs in question include steroids and, increasingly, human growth hormones, which cannot be detected by standard urine tests. Mitchell named dozens of players — current and former — who have illegally used performance-enhancing drugs. The list includes stars such as Roger Clemens, Miguel Tejada, Andy Pettitte and Barry Bonds.
Whom does the report blame?
The report places blame on nearly everyone involved in baseball, including officials in the commissioner's office, the players' union, players and club owners. "There was a collective failure to recognize the problem as it emerged and to deal with it early on," Mitchell concluded. In his report, the former senator was especially tough on the players, the vast majority of whom refused to cooperate with his investigation.
Will players who used the performance-enhancing drugs be punished?
That's not likely. The alleged offenses occurred as many as nine years ago, and fully half of the players named have since retired. In addition, Mitchell implied that punishing offenders might be counterproductive. Major League Baseball Commissioner Bud Selig said the possibility of suspension would be considered on a case-by-case basis.
How long has steroid use been a problem in Major League Baseball?
For at least a decade, and probably much longer. The 1990s saw a surge in home runs and, not coincidentally, a surge in attendance, as well. There were rumors of illegal doping, but the baseball establishment — owners, players, fans — largely turned the other way, content to see the game bouncing back from the disastrous 1994 players' strike.
Hasn't that changed since then? Isn't baseball cracking down on the illegal use of performance-enhancing drugs?
Yes. It established mandatory random testing in 2003, and has steadily ratcheted up the penalties for offenders. The big turning point, from a public-relations standpoint, came in 2005, when Congress held hearings on the use of performance-enhancing drugs. Those hearings underscored the extent of the problem, even as some star players such as Mark McGwire and Sammy Sosa either denied using steroids or evaded questions about their use.
Why is the Mitchell Report getting so much attention?
Because no other sport in the U.S. has conducted such a comprehensive and thorough investigation into the use of performance-enhancing drugs. Mitchell spoke to all 30 Major League Baseball teams and conducted hundreds of interviews (though he did not have subpoena power). Allegations of illegal drug use hit home for many Americans. Many young players view the major league stars as role models, and in fact, hundreds of thousands of teen players have used performance-enhancing drugs themselves, according to Mitchell.
Why did Major League Baseball choose George Mitchell to conduct this investigation?
The former senator and prosecutor is widely respected, with a reputation for both toughness and fairness. He has led peace missions to Northern Ireland and the Middle East. He is also a lifelong baseball fan and was once considered a top candidate to be commissioner of Major League Baseball.
Why do players take steroids?
Because they work. They allow an athlete to build muscle bulk and endurance, mostly by speeding recovery from strenuous workouts. Some experts believe the drugs also enable athletes to run faster and react more quickly on the playing field.
Are steroids dangerous to a player's health?
Absolutely. Steroids can lead to relatively minor side effects — such as premature balding and acne — but also can cause serious medical conditions, such as liver disease and cardiovascular problems. They can also cause mood swings and suicidal thoughts.
Aren't steroids used for legitimate medical reasons?
Yes. They're used to treat everyone from cancer patients to children with growth problems. But the doses are usually much smaller than those taken by athletes, and the drugs are only available by prescription.
Has the steroid scandal hurt baseball's popularity?
It hasn't hurt attendance, which continues to rise.
Is the use of performance-enhancing drugs limited to baseball?
Not at all. Nearly every major sport is wrestling with this problem. How they deal with it, though, differs widely. The Olympics and professional cycling have the toughest testing regimens and the toughest penalties. After a slow start, baseball now has the harshest penalties of any U.S. team sport. Given the ringing indictment by the Mitchell Report, those penalties — and overall policing of performance-enhancing drugs — are likely to get even tougher.