McCain Depending on New Hampshire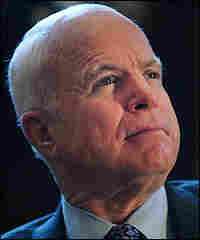 Darren McCollister/Getty Images
At most John McCain campaign stops, New Hampshire voters may see at least one hand-lettered sign that says "The Mac Is Back," or video screens touting McCain's 26 local newspaper endorsements. It makes it hard to believe that McCain's campaign seemed dead just a few months ago.
Now the McCain camp is focusing its energy on New Hampshire, where it's hammering home two messages: one, that New Hampshire voters can't be bought. The second message is that America "needs a practiced hand" to deal with the threats in Iraq, Afghanistan, and Pakistan.
The emphasis on money and foreign policy is no accident.
The campaign of former Massachusetts governor and Republican Mitt Romney has spent lavishly on ads attacking McCain's stance on immigration. McCain's needling also points to Romney's lack of international political experience.
A 90-year-old Republican voter, Charles McLean, says he would consider McCain over Romney. Lately, he has become convinced that McCain's international experience and patriotism trumps any shortcomings.
Independent voter Lynn Howard would not go that far, but the former teacher says she may end up voting for McCain.
"I had written him off frankly because of the immigration issue. But I am willing to look at him again, because I think we are in a war for survival and we need to face it," she said. "We need people with experience and people who can address the issues."
At town halls, an energized McCain highlights issues where he differs from his GOP rivals. He says he will make sure the U.S. never again engages in torture. McCain says he also would like to close the Guantanamo Bay prison.
McCain has also been concentrating on the independent voters who carried him to an upset win over then-Gov. George Bush in New Hampshire in 2000. He seems aware that dissatisfaction within the Republican field has brought him back into contention. Here's how he put it to a packed VFW hall in Merrimack:
"We have had a Lazarus-like experience at least in the minds of some observers. In fact, I told one of them the other day, "I feel like Will Smith in I Am Legend. You know I'm the last guy standing who is not a zombie."
John McCain will be appearing in New Hampshire all week, apart from a one day trip to Iowa on the eve of the caucuses.