McGovern Calls for Bush, Cheney Impeachment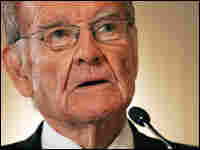 George McGovern, the former Democratic senator from South Dakota and 1972 presidential nominee, talks about his recent op-ed, "Why I Believe Bush Must Go," published Sunday in The Washington Post.
"Bush and Cheney are clearly guilty of numerous impeachable offenses," McGovern writes. "They have repeatedly violated the Constitution. They have transgressed national and international law. They have lied to the American people time after time."
He concedes that the prospect of impeachment is unlikely, but concludes that it is the "only honorable" course of action for an American patriot.