Presidential Hopeful Edwards in for the 'Long Haul'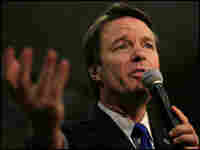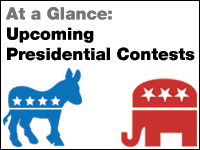 Former Sen. John Edwards of North Carolina says that the upcoming South Carolina primary is important, but will not "make or break" him — or any of the other Democratic presidential hopefuls. He expects a long-term contest for the Democratic party's nomination.
"I've been through this process before," Edwards says. "I'm seasoned at it. I know what it takes, and this is going to go on for a long time."
Edwards came in second in the Iowa caucuses and third in the New Hampshire primary. He trails fellow Democratic presidential contenders Sen. Barack Obama (IL) and Sen. Hillary Clinton (NY) in fundraising — they have both raised more than $100 million for their campaigns.
"Unfortunately for [Edwards]," says NPR's political editor Ken Rudin, "it seems like he's become a sidebar to this escalating Obama-Clinton tension ... he just seems to be lost in the shuffle because, for all the things he has to say, he's not getting any headlines or much media play."
A racially charged skirmish between Clinton and Obama began when Clinton commented that Martin Luther King's dream of racial equality was realized only when former President Lyndon B. Johnson signed the Civil Rights Act of 1964. Racial politics have risen to the surface as the Democrats square off for 2008's first primary in a state with a sizable African-American vote.
Born in South Carolina, Edwards says that growing up in the segregated South during the civil rights movement made an enormous impact on his life and the way he views the world. Edwards won the primary in the state in 2004 and hopes to replicate those results this year.
Edwards, speaking from Pawleys Island, S.C., takes listener calls regarding health care policy, the death penalty and education reform.