Remembering Kurt Cobain, 10 Years Later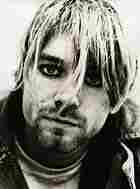 Ten years ago, Kurt Cobain — co-founder and lead singer of the group Nirvana — apparently committed suicide. Cobain introduced the sound known as grunge to audiences around the world. His death prompted thousands of fans to hold vigils in his hometown of Seattle, Wash. Many likened its impact to the effect John Lennon's murder had on their parents. Marcie Sillman of member station KUOW has a remembrance.
Copyright © 2004 NPR. All rights reserved. No quotes from the materials contained herein may be used in any media without attribution to NPR. This transcript is provided for personal, noncommercial use only, pursuant to our Terms of Use. Any other use requires NPR's prior permission. Visit our permissions page for further information.
NPR transcripts are created on a rush deadline by a contractor for NPR, and accuracy and availability may vary. This text may not be in its final form and may be updated or revised in the future. Please be aware that the authoritative record of NPR's programming is the audio.