Eugene McGuinness: Lively Pop Melodies
Song List
"High Score"
"Bold Street"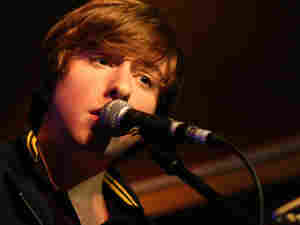 Born in London with an Irish upbringing, 21-year-old singer-songwriter Eugene McGuinness now calls Liverpool home. He's quickly become a notable pop singer with a distinct songwriting voice. His songs are infused with wry humor and a bit of swagger, as he comments on topics that would otherwise seem mundane, like procrastination, rainy English weather, and monsters under the bed.
In 2007, McGuinness signed to a prominent label and released his first mini-album, The Early Learnings of Eugene McGuinness. It's characterized by eloquently crafted lyrics, acoustic strumming, Cure-inspired rhythms, and lively pop melodies.
Purchase Featured Music
The Early Learnings Of Eugene McGuinness
Support XPN
Stories like these are made possible by contributions from readers and listeners like you.