Thao Nguyen Braves 'Bee Stings' and More
Set List
"Geography"
"Beat (Health, Life & Fire)"
"Big Kid Table"
"Swimming Pools"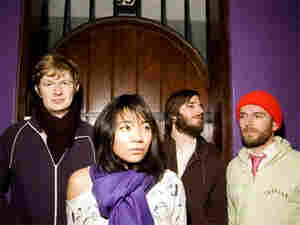 Singer-songwriter Thao Nguyen's music sounds heartfelt, inspirational, and real. While primarily a solo artist with a penchant for great lyrics and soft acoustic guitars, she now tours with a band: The Get Down Stay Down, based out of Arlington, Va.
Her latest album, We Brave Bee Stings and All, flows beautifully from start to finish, showcasing a pop sound with roots in blues and indie-folk.
World Cafe would like to thank WERS, 88.8 FM in Boston, MA, for recording the song "Swimming Pools" for our interview with Thao. That song was mixed by Conrad Osipowicz.