Sliced, Diced 'Dexter' Moves from Cable to CBS
The Showtime series Dexter, which tells the story of a criminologist who moonlights as a serial killer, will air (edited for content) on CBS. Fresh Air's TV critic David Bianculli talks about Dexter's move from cable to network.
Copyright © 2008 NPR. All rights reserved. No quotes from the materials contained herein may be used in any media without attribution to NPR. This transcript is provided for personal, noncommercial use only, pursuant to our Terms of Use. Any other use requires NPR's prior permission. Visit our permissions page for further information.
NPR transcripts are created on a rush deadline by a contractor for NPR, and accuracy and availability may vary. This text may not be in its final form and may be updated or revised in the future. Please be aware that the authoritative record of NPR's programming is the audio.
'Dexter': Criminologist by Day, Killer by Night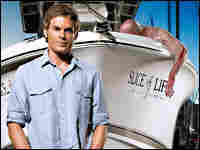 i
Related NPR Stories
On Showtime's Dexter, Michael C. Hall plays a Miami forensics detective who spends his days examining blood splatter, and his nights out on killing sprees.
It's not as cold-hearted as it sounds though — Hall's character strictly adheres to the "rules" he learned from his foster father; he only kills people who "deserved to die."
Hall discusses the challenges of playing the ultimate good/bad guy — the role of the likable serial killer.