Genetic Mutation Gives Boy Super-Strong Muscles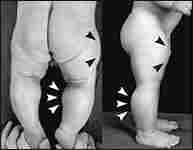 NPR's Robert Siegel talks with Dr. Elizabeth McNally talks about a study, published in today's New England Journal of Medicine, about a four-year-old boy born in Germany who was born with well-defined muscles. The child can lift seven-pound weights over his head.
Copyright © 2004 NPR. All rights reserved. No quotes from the materials contained herein may be used in any media without attribution to NPR. This transcript is provided for personal, noncommercial use only, pursuant to our Terms of Use. Any other use requires NPR's prior permission. Visit our permissions page for further information.
NPR transcripts are created on a rush deadline by a contractor for NPR, and accuracy and availability may vary. This text may not be in its final form and may be updated or revised in the future. Please be aware that the authoritative record of NPR's programming is the audio.