Cassini Becomes First Craft to Enter Saturn's Orbit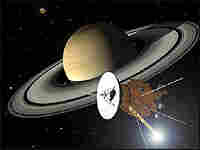 After a six-and-a-half-year journey, NASA's Cassini spacecraft becomes the first to enter Saturn's orbit. The bus-sized spacecraft will spend the next several years exploring the planet, its rings and its moons. NPR's Richard Harris reports.
Copyright © 2004 NPR. All rights reserved. No quotes from the materials contained herein may be used in any media without attribution to NPR. This transcript is provided for personal, noncommercial use only, pursuant to our Terms of Use. Any other use requires NPR's prior permission. Visit our permissions page for further information.
NPR transcripts are created on a rush deadline by a contractor for NPR, and accuracy and availability may vary. This text may not be in its final form and may be updated or revised in the future. Please be aware that the authoritative record of NPR's programming is the audio.