Logistics Tangle Relief Efforts in Sri Lanka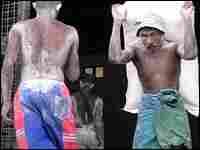 With the international relief effort well underway, aide organizations are finding it difficult to get food, water and medical supplies from the airport to the areas most affected by last weeks tsunami. NPR's Jason Beaubien reports.
Correction
Feb. 2, 2005
This story misquoted TRO volunteer Suren Sornalingham. Sornalingham said trucks had been seized and items taken, but did NOT attribute those actions to the Tamil Tigers.