Palestinian Students Discuss Peace Prospects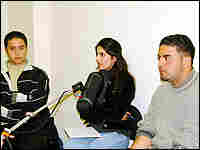 We hear from a group of students at Bir Zeit University in Ramallah. The students talk about their reserved optimism concerning an opportunity for peace with Israel.
NPR transcripts are created on a rush deadline by a contractor for NPR, and accuracy and availability may vary. This text may not be in its final form and may be updated or revised in the future. Please be aware that the authoritative record of NPR's programming is the audio.