'The Wee Book of Calvin': Embracing Life's Dark Side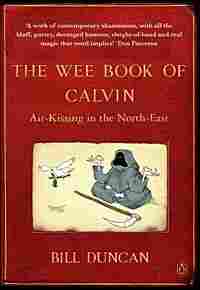 The Wee Book of Calvin, a humorous self-help book that draws on the pragmatic philosophies of Protestant reformer John Calvin, urges people to embrace the darker, more realistic side of life. Author Bill Duncan says the book is a distinctly Scottish antidote to America's "personal improvement" industry.
Copyright © 2005 NPR. All rights reserved. No quotes from the materials contained herein may be used in any media without attribution to NPR. This transcript is provided for personal, noncommercial use only, pursuant to our Terms of Use. Any other use requires NPR's prior permission. Visit our permissions page for further information.
NPR transcripts are created on a rush deadline by a contractor for NPR, and accuracy and availability may vary. This text may not be in its final form and may be updated or revised in the future. Please be aware that the authoritative record of NPR's programming is the audio.