Playful Pop from French Quartet Phoenix
Songs from Phoenix 'Live!'
Listen: 'If I Ever Feel Better'
Since their debut CD United first hit stores in 2001, French band Phoenix has gained a devoted following on the international pop scene. Their latest album, Live! Thirty Days Ago, follows the quartet on the road, where they cut loose with playful interpretations of their studio tracks.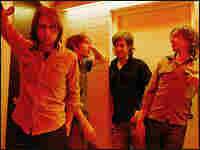 Lead singer Thomas Mars and guitarist Christian Mazzalai stop by NPR's Studio 4A to perform and talk about their current North American tour.
Featured Artist
Purchase Featured Music
Album

Live! Thirty Days Ago

Artist

Phoenix

Label

Astralwerks

Released

2005
Your purchase helps support NPR Programming. How?