Story Behind the Picture: A Chalk Sketch
To participate in The Story Behind the Picture, send your story, 150 words or fewer, to WATC@npr.org. Put the word "picture" in the subject line and include your name and phone number. If possible, attach a copy of your photo to your e-mail.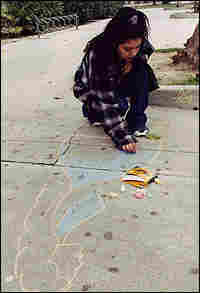 i
Family photos hold the key to a treasure trove of memories and experiences. In the second in a series exploring the stories, thoughts and meaning behind images, teacher Scott Banks shares a memory of photographing one of his students.
Copyright © 2005 NPR. All rights reserved. No quotes from the materials contained herein may be used in any media without attribution to NPR. This transcript is provided for personal, noncommercial use only, pursuant to our Terms of Use. Any other use requires NPR's prior permission. Visit our permissions page for further information.
NPR transcripts are created on a rush deadline by a contractor for NPR, and accuracy and availability may vary. This text may not be in its final form and may be updated or revised in the future. Please be aware that the authoritative record of NPR's programming is the audio.
More Photo Stories on NPR