The Timeless Reign of Carole King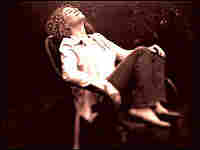 Singer and songwriter Carole King wrote '60s hits such as "Up on the Roof" and "Will You Still Love Me Tomorrow?" In the '70s, she achieved lasting fame performing her own material, such as "Natural Woman" and Tapestry, the best-selling album of the decade. Carole King's new album is titled The Living Room Tour. It was recorded live in Chicago, Los Angeles, and Hyannis, Mass. (This interview originally aired June 19, 1989.)
Copyright © 2005 NPR. All rights reserved. No quotes from the materials contained herein may be used in any media without attribution to NPR. This transcript is provided for personal, noncommercial use only, pursuant to our Terms of Use. Any other use requires NPR's prior permission. Visit our permissions page for further information.
NPR transcripts are created on a rush deadline by a contractor for NPR, and accuracy and availability may vary. This text may not be in its final form and may be updated or revised in the future. Please be aware that the authoritative record of NPR's programming is the audio.
Featured Artist
Purchase Featured Music
Album

The Living Room Tour

Artist

Carole King

Label

Rockingale Records

Released

2005
Your purchase helps support NPR Programming. How?