Best Music of 2005: Tom Moon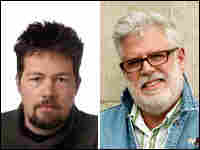 Host David Dye is joined by critic Tom Moon for a special edition of World Cafe. Together, they look back on some of the best performances of 2005.
Copyright © 2010 NPR. All rights reserved. No quotes from the materials contained herein may be used in any media without attribution to NPR. This transcript is provided for personal, noncommercial use only, pursuant to our Terms of Use. Any other use requires NPR's prior permission. Visit our permissions page for further information.
NPR transcripts are created on a rush deadline by a contractor for NPR, and accuracy and availability may vary. This text may not be in its final form and may be updated or revised in the future. Please be aware that the authoritative record of NPR's programming is the audio.
Thelonious Monk, John Coltrane "Epistrophy (Late Show)" Thelonious Monk Quartet with John Coltrane at Carnegie Hall
Kanye West "Gold Digger (Radio Edit)" Late Registration
Blackalicious "Powers" The Craft
Mars Volta "The Widow" Frances the Mute
The White Stripes "My Doorbell" Get Behind Me Satan
Laura Veirs "Secret Someones" Year of Meteors
Iron & Wine "My Lady s House" Woman King