Crowds Flood Free Clinic at New Orleans Zoo
The New Orleans Health Department is providing a week of free healthcare for city residents at a clinic in the Audubon Zoo. There is free dental care, eye exams and other outpatient procedures for whomever shows up — and there have been a lot of people showing up.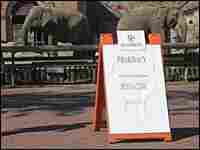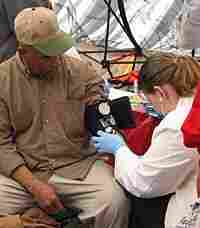 ALEX CHADWICK, host:
This is DAY TO DAY. I'm Alex Chadwick.
MADELINE BRAND, host:
And I'm Madeline Brand. In New Orleans, a new use for the Audubon Zoo. There are lots of people there this week not to see the animals, but to receive medical attention. The city is using the zoo as a free medical clinic and thousands of people, many middle class, have come from around the state. NPR's Audie Cornish reports.
AUDIE CORNISH reporting:
It's not the first place you'd think to go for healthcare, but right now Barbara Blade says this feels like her only choice.
Ms. BARBARA BLADE (Receiving free healthcare): I was like oh, hell the zoo? I couldn't believe they were doing this at a zoo.
CORNISH: Each day people like Blade line up as early as six a.m. at the Audubon Zoo for free meetings with medical specialists, like gynecologists and cardiologists or to register for simple physicals or eye exams.
Unidentified Man #1: I said if you're here for glasses only we've cut that area off. They have 391 people already over there...
CORNISH: Gerry Addison is a couple rows back from Blade in a winding maze of metal barriers in the parking lot. Addison says since she left her home flooded last fall she's been splitting her pills in half.
Ms. GERRY ADDISON (Receiving free healthcare): I don't even know where my doctor is. Truthfully I don't even know where the physician is. I need to get a prescription filled and I don't even know where he is.
CORNISH: Even if she could find her doctor Addison says she's currently unemployed and without healthcare and hasn't signed up for anything while she's trying to get back on her feet.
Ms. ADDISON: If you don't have a medical card you have to go to the local hospital and you wait for hour and hours and hours and hours, because there's so many people that need the attention. If it's not an emergency and you go-- say for instance I need to get a prescription filled if I went to the emergency room I'm taking time of somebody who that has a dire emergency.
CORNISH: With city area medical centers closing after the storm the number of hospital beds in New Orleans is down from 53,000 to 15,000 and metro area clinics are bulging with patients. And just like grocery stores and other businesses in the city, many pharmacies and doctor's offices are still closed. The doctors here come from around the country, organized by a group called Remote Area Medical, which usually brings volunteer doctors and nurses into areas like the Appalachians for similar style clinics. At the Audubon the open air oral surgery tent is down past the elephant exhibit and physicals take place behind curtains and wire at an administration hall.
Unidentified Man #2: Well, your blood pressure's really high. It's 174 over 114, so that might be contributing to the headache.
Ms. MONICA BARRELON(ph) (Receiving free healthcare): Yeah, because I didn't have medicine.
Unidentified Man #2: How come you're out of your medicine? Did your doctor leave town or...
Ms. BARRELON: I can't find my doctor. I can't find any doctor.
Unidentified Man #2: You can't find any doctor? Ok.
CORNISH: Doctors say patients like Monica Barrelon seem to make up a significant number of the people who've come through this week. She's suffering from hypertension and diabetes and without her medications her chronic illness is now spinning out of control. And while patients returning to the city say they can't find their doctors, city doctors say they're having trouble finding their patients. Meantime, Dr. Emmett Chapetal(ph) says he's been getting calls everyday from people who want to see him, but the cardiologist who lost his home in the flood says he doesn't really have a place to practice.
Dr. EMMETT CHAPETAL (Physician, New Orleans): I still don't have a phone service, water, or power at my office and it's hard to open up an office without all of the essentials basically.
CORNISH: Chapetal says sometimes he feels overwhelmed, but he hopes the clinic will give people a glimpse of progress. Rachel Meirer(ph) traveled from nearby Metairie to get her cholesterol and blood pressure checked. She showed up early and brought a book and says it's worth the wait.
Ms. RACHEL MEIRER (Receiving free healthcare): It's not just short gap information. It's overall heath, how are you doing, what do you have, what could we help you with. It's not just put a Band-Aid on it. They're trying to do so much more for people.
CORNISH: The free clinic at the Audubon closes at the end of this week. Organizers say they're trying to connect people with medical clinics outside the city. Each patient is also receiving a key chain size computer jump drive that contains their medical information in the event of another emergency. Audie Cornish, NPR News, New Orleans.
NPR transcripts are created on a rush deadline by Verb8tm, Inc., an NPR contractor, and produced using a proprietary transcription process developed with NPR. This text may not be in its final form and may be updated or revised in the future. Accuracy and availability may vary. The authoritative record of NPR's programming is the audio record.