Midlake: Accessible but Inventive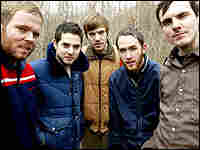 Song List
"Young Bride"
"Head Home"
The Texas band Midlake has been compared to everyone from The Flaming Lips to The Beatles, which actually makes sense: Consistently accessible but unpredictably inventive, its music appeals to a broad spectrum of listeners. The group's first album, Bamnan and Slivercork, earned rave reviews and a cult following, and Midlake recently followed it with The Trials of Van Occupanther. The disc showcases a more organic sound, reminiscent of '70s folk-rock, with the synths of old giving way to acoustic guitars and pianos.
Featured Artist
Purchase Featured Music
The Trials of Van Occupanther
Album

The Trials of Van Occupanther

Artist

Midlake
Your purchase helps support NPR Programming. How?