Blues and Conversation with Bonnie Raitt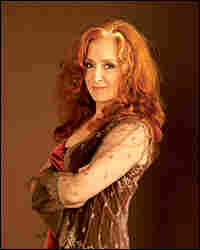 i
Songs from the Show
Nine-time Grammy winner Bonnie Raitt is well-known for her soul-stirring slide guitar, her commanding voice, and her famous mop of red hair. She writes some of her own songs, but often features material from blues icons, from her own band members, and from some songwriters who aren't as well-known. Her most recent album, her 18th, is called Souls Alike.
Raitt performs songs from Souls Alike and chats with callers, live from NPR's Washington studios. She talks about her music, her career, and the interplay between her work as an artist and her social activism.
Featured Artist
Purchase Featured Music
Album

Souls Alike

Artist

Bonnie Raitt

Label

Capitol

Released

2006
Your purchase helps support NPR Programming. How?