Returning to the Ninth Ward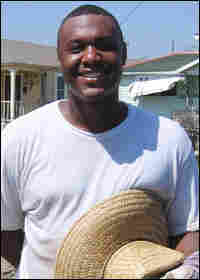 A dispatch from Noah Adams, blogging from the Gulf Coast:
I drove out Piety Street then switched over to Desire. It's now a familiar route, heading into the Ninth Ward. This is across the Industrial Canal from the Lower Ninth and some call this neighborhood the Upper. I crossed the streets named Industry, Abundance and Treasure, then turned on Clouet to find St. Philip the Apostle Catholic Church. I first came here in 2004 for a story about an after school supper program — meals for children and their families prepared by students at Dillard University. That was a happy, satisfying story. Last October I came back, finding no one I knew. Only a few of the houses were sound enough to live in.
Today, the crunch of dried light brown mud is gone from the streets and the grass. A few more houses have people. I met Jene Moore, a grandmother. She'd been away in Murray, Ky., and smiled when she talked about the folks there who brought a school bus to New Orleans. Jene and her family were the next in line at the convention center when the bus from Murray pulled up. Now she's back in a trailer, her collapsed house untouched. "No school," she said. "No store."
Teron Guidry was nearby, wearing a big straw hat. He's part of a crew hired to clean up the streets and sidewalks. Thirty-two years old, he left this neighborhood when he was 9. "I didn't like it," he said. "I don't like poverty-stricken places and drugs." He had a smile. He was making money today sweeping up; Guidry usually works as an electrician. "I'm happy to help here, though. I don't like seeing this."
The first time I came to the streets around St. Philip's (which remains closed) I stayed all afternoon and into the evening. The second time, after the storm, I stayed for an hour or so. Today I left after 30 minutes.