Slump Has Homebuilders Offering Buyers Incentives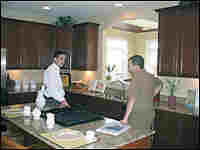 The number of new homes sold in the United States increased in August over the previous month, after three consecutive months of decline. The median price of new homes also rose slightly over the previous month.
But despite the news that the downturn in the housing market is already over, analysts were quick to point out that the uptick may be temporary — and that both sales and median prices are down from a year ago.
The news may help homebuyers who are offering incentives to entice buyers to the weak market. In some cases, builders are offering to bridge loans to buyers until they are able to sell their existing homes. The backlog of unsold homes has risen more than 43 percent in the last year.
The National Association of Realtors says U.S. home prices have risen 50 percent since 2000.
But with housing inventory up, big builders like Toll Brothers, Pulte and Lennar are offering buyers incentives to keep them in the market for a new house. In some cases, they offer below-market mortgage rates — or even provide bridge loans to buyers until they can sell their old house.
Home builders would like to believe the incentives are what caused the rebound in new home sales last month, but that's far from clear. It may have been a slight decrease in long-term mortgage rates.
Most analysts agree the housing market hasn't bottomed out yet — there is a glut of both new and old homes on the market right now. And many buyers say they expect prices to fall further in coming months.
Still, most big home builders beleive they will weather the current downturn. Of perhaps more concern to many economists is what the slowdown will mean for the broader economy. The housing sector accounts for millions of jobs and a signficiant share of overall U.S. economic activity.