Pressure Mounts on Iraqis to Quell Violence
Earlier this week, White House spokesman Tony Snow said President Bush has reassured Iraqi Prime Minister Nouri al-Maliki there was no deadline for him to rein in the sectarian violence threatening to tear the nation apart.
So why was the Iraqi leader worried about what Snow called a "rumor"?
Alex Chadwick talks with three experts about the future of the troubled nation, and whether an ultimatum to the Iraqi government will lead to a decrease in tensions that threaten to tear the nation apart: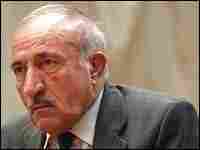 Mahmoud Othman
Kurdish member of Iraq's Parliament, Sunni Muslim and key proponent of Kurdish independence.
Leslie Gelb
President emeritus of the Council on Foreign Relations, former New York Times correspondent and columnist.
Sen. Jack Reed (D-RI)
Member of the Senate Armed Services Committee, West Point graduate and former Army Ranger.