Cold War Kids: Indie-Rock Writ Large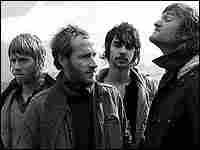 Song List
"We Used to Vacation"
"Hospital Beds"
At first, The Cold War Kids' music seems almost haphazard, but a closer listen reveals the intricacy that gives the California band its distinctive sound. The piano and guitars set each song's mood, ranging from mellow to reckless, and the bass jacks up the intensity at just the right moments.
The Cold Wars Kids' members put themselves on the indie-rock map the hard way: through constant touring, intense live shows, a few EPs and, most importantly, word of mouth. But while many industrious bands slip through the cracks, The Cold War Kids stuck it out, ultimately snagging a label deal with Downtown Records, home of Gnarls Barkley and Eagles of Death Metal, among others. The Cold War Kids' first full-length album, Robbers & Cowards, contains a number of songs re-recorded from earlier EPs, including fan favorites "Hang Me Up To Dry" and "Hospital Beds."