Outspoken Putin Critic Poisoned, Near Death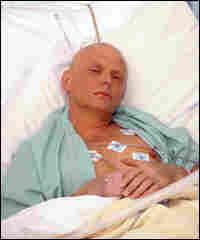 Former Russian spy Alexander Litvinenko is near death after being poisoned at a restaurant in Great Britain.
He's a critic of Russian President Vladimir Putin, and was hunting for information about the murder of a Russian journalist when he fell ill.
Litvinenko had been looking into the killing of Russian investigative journalist Anna Politkovskaya. He fell ill after a meal at a sushi restaurant with an Italian contact who claimed to have details about the murder.
The Kremlin dismissed allegations that Russia's government was involved in the poisoning.
Host Madeleine Brand speaks with John Steele of the London Daily Telegraph about the news.