Former Russian Spy in ICU; Kremlin Denies a Role
A former Russian spy who is fighting for his life in a London hospital claims that he was deliberately poisoned by Russian agents because of his criticisms of Russian President Vladimir Putin. The Kremlin dismisses the claims as "nonsense."
Alexander Litvinenko's has been moved to the intensive care unit of a London hospital. Poisoned earlier this month, Litvinenko's condition worsened overnight.
Litvinenko is a former colonel in the Federal Security Service, the successor to the KGB. But now he is an outspoken critic of the Kremlin, and he had been looking into the killing of Russian investigative journalist Anna Politkovskaya — also a fierce critic of Russian President Vladimir Putin.
Last week, Litvinenko told the BBC that on Nov. 1 a former KGB man he knew from Moscow suggested meeting for a drink. After the meeting, he said, he began to feel sick.
Alexander Goldfarb, a friend of Litvinenko's, says his friend "looks like a ghost — or like a cancer patient who went through heavy chemotherapy. He actually hasn't eaten for 19 days now, and they feed him through IV."
In 2004, Ukrainian President Viktor Yushchenko nearly died after being poisoned. Litvinenko was one of those who accused Moscow of being behind that incident.
The toxicologist who treated the Ukrainian president is now also treating Litvinenko in London. Dr. John Henry said there is "no doubt" that Litvinenko has been poisoned with the chemical thallium.
"Thallium is, it's a chemical that comes in salts," Henry said. "A little bit like table salt. It is tasteless, colorless, odorless. It takes about a gram — you know, a large pinch of salt like, to, in your food, to kill you."
A senior Kremlin spokesman has dismissed allegations that the Russian government was involved in his poisoning.
Outspoken Putin Critic Poisoned, Near Death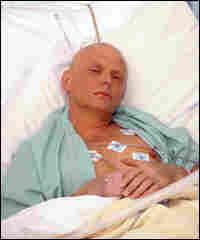 Former Russian spy Alexander Litvinenko is near death after being poisoned at a restaurant in Great Britain.
He's a critic of Russian President Vladimir Putin, and was hunting for information about the murder of a Russian journalist when he fell ill.
Litvinenko had been looking into the killing of Russian investigative journalist Anna Politkovskaya. He fell ill after a meal at a sushi restaurant with an Italian contact who claimed to have details about the murder.
The Kremlin dismissed allegations that Russia's government was involved in the poisoning.
Host Madeleine Brand speaks with John Steele of the London Daily Telegraph about the news.