Tony Bennett Polishes 'San Francisco' Gem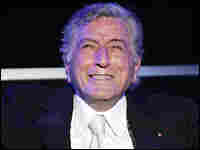 i
'I Left My Heart' Redux
Listen to two versions of Tony Bennett's classic "I Left My Heart in San Francisco."
On his new CD, Duets: An American Classic, Tony Bennett performs with a procession of younger performers, including the Dixie Chicks, Diana Krall, Stevie Wonder, Sting and George Michael.
But one track that he sings solo is "I Left My Heart in San Francisco," his signature tune.
Bennett, who turned 80 this year, originally recorded the song in 1962. He has sung it at every performance since then.
In the new version, Bennett and record producer Phil Ramone pted for old-fashioned simplicity: just Bennett and pianist Bill Charlap in a softly lit studio in Englewood, N.J.
During the recording session, Bennett gets his voice loose and his mind ready for the task — and works his musical magic.