Mars Update
A look at the missing Mars Global Surveyor and new evidence of water on Mars.
Guest:
Ken Edgett, Staff Scientist, Malin Space Science Systems, San Diego, CA
Water May Still Flow on Mars, NASA Photo Suggests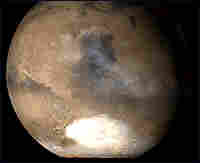 NASA/JPL/Malin Space Science Systems
Images of Mars suggest that water flowed on the planet's surface at sometime in the past five years, a discovery that raises the possibility that life may exist on Mars.
Scientists believe Mars may have once been warm and wet, but today, the planet is cold and extremely dry. So finding what looks like a recent water flow is stunning. The evidence comes from pictures taken by NASA's Mars Global Surveyor, a satellite in orbit around Mars. Scientists compared a picture of a gully taken in December 2001 with a picture of the same gully in 2005. The newer picture showed fresh deposits along the sides of the gully, and from the shape of the deposits, scientists infer they arrived there from flowing water. A second gully showed similar fresh deposits.
This is not direct proof of water, but it's extremely suggestive. And where there's water, there could be life. The work appears in the journal Science.