For the French, New Year Means Good Oysters
France is Europe's top producer and consumer of oysters, the staple of French New Year celebrations. In Paris, restaurants and oyster stands display beautiful platters decorated with lemon wedges, as oysterman open the shellfish in front of customers. And unlike in America, oysters are never rinsed in France, the better to preserve the taste.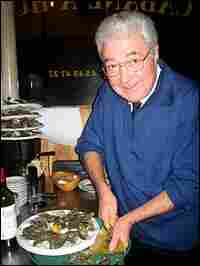 MELISSA BLOCK, host:
In France, no New Year Celebration would be complete without oysters, which are considered de rigeur for any holiday feast. The French are some of the world's top oyster consumers.
Eleanor Beardsley fills us in from Paris.
ELEANOR BEARDSLEY: Oysters are to France sort of what pasta is to Italy. And this time of year, they are everywhere. You can buy them at stalls at nearly all the outdoor food markets and nearly every restaurant has its sidewalks stand where icy oyster platters decorated lemon wedges wait customer's pallets.
In the heart of Paris's Montparnasse neighborhood, Francis Dubourg(ph) stands behind the bar in his restaurant, La Cabane a Huitres, or the Oyster Shack, shocking oysters and greeting customers. The 62-year-old fourth generation Oysterman farms his oysters in the Bay of Arcachon off France's Atlantic Coast and brings them to Paris where he serves them up four days a week. Dobourg says he is one of the last growers to raise oysters in the traditional way.
Mr. FRANCIS DOBOURG (La Cabane a Huitres): (Through translator) My oysters are raised directly on the sand, the way it was done in the old days. They lie flat. They are not hanging bunch in bags. And this is very important because an oyster takes it properties from the sand, just like a good one absorbs the oil it's blended in.
BEARDSLEY: Oysters have been enjoyed since antiquity in France and Dobourg says oysters from the Arcachon Basin were deported to Rome by emperors Julius and Augustus Caesar. In the 1850, Napoleon III created oyster parks as wild oysters became increasing scarce. Today, France is Europe's number one grower, exporter and consumer of oysters, with each Frenchman slurping down about four and a half pounds a year, compared to less than a quarter pound by Americans.
At a dozen simple tables in this small wood paneled room that smells like the sea, Dobourg's patrons enjoy his bountiful harvest. For Jean Gouse(ph) say, eating the sacred sea fruit is all about French culture.
Mr. JEAN GOUSE: We are having oysters for Christmas and for New Year's Eve. The tradition is that you have to eat oysters for feast. So if there are no oysters for New Year's Eve, for instance, something is missing.
BEARDSLEY: Oysters accompanied by white wine or champagne are eaten raw in France, scrapped out of their shells with tiny forks while still alive. Jean Pierre Stalla(ph), who comes here to enjoy oyster every week, says there are several schools of thought on eating them.
Mr. JEAN PIERRE STALLA: (Through translator) Some oyster lovers open the oyster and throw out what is called the first water and then wait 15 minutes or so until the oyster makes its own juice again. And they swear that this is the best way to eat them.
Unidentified Man: (Singing foreign language)
BEARDSLEY: These contended diners say the Arcachon Bay's ideal mix of salt and sweet water and moderate temperatures breed the perfect oyster, tasty and rich in sea minerals. And as for its renowned qualities as an aphrodisiac, it's not for nothing, says Dobourg, that France has continental Europe's highest birth rate.
For NPR News, I'm Eleanor Beardsley in Paris.
NPR transcripts are created on a rush deadline by Verb8tm, Inc., an NPR contractor, and produced using a proprietary transcription process developed with NPR. This text may not be in its final form and may be updated or revised in the future. Accuracy and availability may vary. The authoritative record of NPR's programming is the audio record.