Frank Luntz Explains 'Words That Work'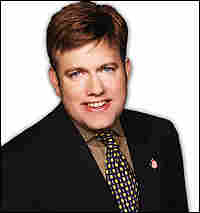 Republican pollster Frank Luntz advises politicians on the language they should use to win elections and promote their policies. Although he works on one side of the aisle, he says that what he does is essentially nonpartisan, seeking clarity and simplicity in language. His critics disagree, and have accused him of using language that misrepresents policies to "sell" them to the public. Frank Luntz is the author of Words That Work.
Copyright © 2007 NPR. All rights reserved. No quotes from the materials contained herein may be used in any media without attribution to NPR. This transcript is provided for personal, noncommercial use only, pursuant to our Terms of Use. Any other use requires NPR's prior permission. Visit our permissions page for further information.
NPR transcripts are created on a rush deadline by a contractor for NPR, and accuracy and availability may vary. This text may not be in its final form and may be updated or revised in the future. Please be aware that the authoritative record of NPR's programming is the audio.
Related NPR Stories
Web Resources
Books Featured In This Story
It's Not What You Say, It's What People Hear
Hardcover, 324 pages | purchase
Title

Words That Work

Subtitle

It's Not What You Say, It's What People Hear

Author

Frank I. Luntz
Your purchase helps support NPR Programming. How?