A Chat with Oakland's New Mayor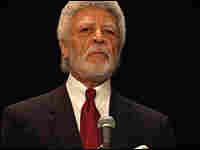 Youth Radio's King Anyi Howell reflects on the political career of newly elected Oakland Mayor Ron Dellums. The mayor has a history with Oakland that seems to have come full circle.
FARAI CHIDEYA, host:
Oakland, California, has a new mayor: former congressman Ron Dellums. Dellums was the first African-American to represent Northern California in Congress back in 1971. Dellums started his political career on the Oakland City Council. And Youth Radio's King Anyi Howell says this homecoming is exactly what the city and its young people need.
KING ANYI HOWELL: When Ron Dellums was elected Oakland's mayor this past fall, I immediately started looking forward to 2007. I just hoped that an election is not the only significant event in '06 to carry over into the New Year. For example, last year, Bay Area rappers introduced hifey music to the nation.
Hifey represents Oakland's unique communication style and a community that has its own dialect, car culture and signature moves called turf dancing. Something that doesn't make me as proud is the turf wars that have filled the already notoriously high Oakland murder rate. It peaked at 148 homicide victims by year's end, leaving countless families mourning and insecure.
Here it's not as common for miscreants to quarrel over colors as it is for arguments that turn fatal over whose neighborhood or turf is the most action-packed. Mayor Dellums even addressed this attitude in his inaugural speech.
Mayor RON DELLUMS (Democrat, Oakland, California): Oakland is one community where we have to come out of our little districts and embrace the rich tapestry of the beauty and the brilliance of the diversity of all of our people.
(Soundbite of applause)
Mr. HOWELL: A lot of times the turfies, Mayor Dellums is referring to just bask in any attention the city receives be it constructive or destructive. Luckily, Oakland's new mayor is giving proper attention to this up and coming generation and hopes we will be the key to ending violence.
Ron Dellums has publicly validated youth and proactive programs that support their expression. That's a dramatic deviation from other reactive solutions, like more police, proposed by previous mayors. Dellums has even gone as far as to commit to the gall of appointing youth to seat on all city commissions.
Mayor DELLUMS: Look, when I was West Oakland Ronnie D, I knew what was happening.
(Soundbite of laughter)
Mayor DELLUMS: But I'm an old guy now so I need to hear young people. And we in Oakland need to provide the mechanisms for them to speak, for us to hear them, to engage them and to involve them as people who need to be respected in this community.
HOWELL: Even as a first step, that invitation should work to eliminate the exclusion that many youth feel when it comes to decisions that effect them. While I can't say Oakland-native Ron Dellums will single-handedly save the city, he definitely has a clear vision of what Oakland, the model city, could look like.
Mayor DELLUMS: A coherent, cohesive city anchored in a vibrant economy. Where its citizenry is healthy, well educated, capable of effective interaction with the civic, economic, social and cultural institutions of our community. That is a model city.
(Soundbite of applause)
HOWELL: It might sound like Ron Dellums is just telling citizens what they want to hear. Still, I've never heard anyone in his position address Oakland's real problems as thoroughly and articulately as Dellums. And he's not just some dude who's been here kicking it. He left Oakland to become accomplished in Congress, and that put him in an even better position. Now he's coming back to lead.
For NPR News, I'm King Anyi Howell.
(Soundbite of music)
CHIDEYA: That story was produced by Youth Radio.
NPR transcripts are created on a rush deadline by Verb8tm, Inc., an NPR contractor, and produced using a proprietary transcription process developed with NPR. This text may not be in its final form and may be updated or revised in the future. Accuracy and availability may vary. The authoritative record of NPR's programming is the audio record.