Third-Term Senator Jon Kyl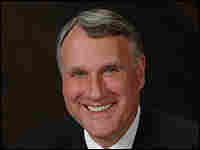 Before being elected into the U.S. Senate in 1994 Sen. Jon Kyl (R-AZ) served in the U.S. House of Representatives. This is his third term as a Senator. He is the third-ranking member of the Republican Leadership. He serves on the Senate's Finance Committee where he is the ranking Republican on the Subcommittee on Taxation and IRS Oversight, and on the Judiciary Committee on Terrorism, Technology and Homeland Security.
Copyright © 2007 NPR. All rights reserved. No quotes from the materials contained herein may be used in any media without attribution to NPR. This transcript is provided for personal, noncommercial use only, pursuant to our Terms of Use. Any other use requires NPR's prior permission. Visit our permissions page for further information.
NPR transcripts are created on a rush deadline by a contractor for NPR, and accuracy and availability may vary. This text may not be in its final form and may be updated or revised in the future. Please be aware that the authoritative record of NPR's programming is the audio.