Ryan Shaw: Timelessly Appealing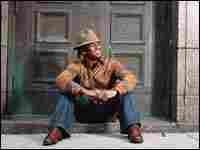 Set List
"A Change Is Gonna Come"
"I Do the Jerk"
"Looking for Love"
"I Found a Love"
"Do the 45"
A native of Decatur, Ga., Ryan Shaw has been singing and performing since he was 3. After gaining extensive experience performing in church and local choirs, he moved to New York City in 1998 to pursue his dream. Shaw's work eventually caught the attention of a talent manager, and he signed both a management deal and an agreement with a major label — all within the span of a few months late last year.
Drawing inspiration from the likes of Sam Cooke and Aretha Franklin, Shaw has developed a timeless, appealing sound. His national debut album, This Is Ryan Shaw, comes out in April.