Peter, Bjorn & John: Pop out of Time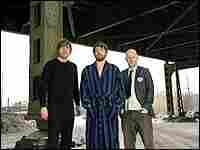 Song List
"Young Folks"
"Objects of My Affection"
It may conjure up '60s rock, Big Star-esque power-pop and new wave, but the music of Swedish trio Peter, Bjorn & John sounds refreshingly timeless and original. Formed in Stockholm in 1999, the group quickly began gigging locally and appearing on compilations alongside the likes of Badly Drawn Boy. After releasing a handful of singles, Peter, Bjorn & John released a self-titled debut full-length, followed by a dizzying barrage of singles and EPs. Falling Out came out here in 2005, confirming the group's place among the great Swedish pop bands.
Peter, Bjorn & John's new Writer's Block captures virtually everything appealing in the indie-pop world today. Featuring the single "Young Folks" — hailed by NME as the second-best song of 2006 — the disc bursts with catchy hooks, each dispensed using the subtlest and most affecting arrangements of the group's career.