Kristin Hersh: Accessible and Off-Kilter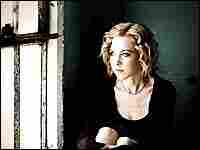 Set List
"In Shock"
"Winter"
"Under the Gun"
As the lead singer and songwriter of Throwing Muses, Kristin Hersh helped define the sound of late-'80s and early-'90s college rock. Striking out on her own, however, has only broadened her musical horizons, as her music has more recently embraced everything from hushed acoustic balladry and folk to full-on rock, all balanced by her natural pop instincts.
Since releasing her solo debut, 1994's Hips and Makers, Hersh has released albums with bands both old (Throwing Muses) and new (50 Ft. Wave), while churning out half a dozen more discs under her own name. On her new Learn to Sing Like a Star, Hersh sounds more energized and passionate than she has in a while. The disc finds Hersh crafting beautiful, emotional and raw pop songs that sound both accessible and off-kilter.
Support XPN
Stories like these are made possible by contributions from readers and listeners like you.