Beck: Mixmaster, Folksinger, Ironist, Shoegazer
Set List
"We Dance Alone"
"I Think I'm in Love"
"Dark Star"
"Strange Apparition"
"Movie Theme"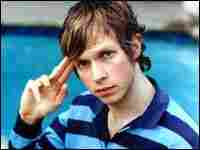 Beck worked as a street busker and released lo-fi albums on tiny labels before breaking through with the left-field mid-'90s hit "Loser." Though many dismissed the song as a one-hit-wonder novelty at the time, Beck quickly gained iconic status as a witty, endlessly inventive alternative rocker. His ever-evolving musical personality has produced hit record after hit record, and he's remained both unpredictable and creatively consistent.
"Alternative" might be the only genre capable of satisfying Beck's varied talents. At times, he plays the role of electronic mixmaster, folksinger, punk rocker, wry ironist, dry hip-hopper and shoegazer, keeping fans on their feet and reviewers on their toes. Ten years after 1996's Odelay sold millions and wowed critics, Beck released yet another hit with The Information. The disc was produced by his friend Nigel Godrich, who is known for his work with Radiohead, as well as Beck's own Mutations and Sea Change.
This segment originally aired on Feb. 23, 2007.
Related NPR Stories
Web Resources