Senegal Votes; Darfur and Chad Simmer
The news from Africa includes a presidential election in Senegal on Sunday featuring an octogenarian incumbent and 14 challengers. And violence from Sudan's Darfur region continues to spill into neighboring Chad.
LIANE HANSEN, host:
This morning, two views of Africa. In West Africa, the people of Senegal are voting for their new president today. The country has a reputation for being one of the continent's more stable and functioning democracies. But in the turbulent Sahara Desert region, Chad is a different story.
The brutal conflict in neighboring Darfur has spilled over the border from Sudan into Chad. And attacks by armed factions on civilians and relief organizations near the border have intensified over the past few weeks. Hundreds of people are reported to have been killed and ten of thousands more displaced from their homes.
Joining us to talk about these contrasts in Africa is NPR's Ofeibea Quist-Arcton. She's in the Senegalese capital, Dakar.
Ofeibea, Senegal is voting for the new leader today? Tell us a little bit about what the voters' main concerns are?
OFEIBEA QUIST-ARCTON: Well, you're catching me at the polling station where, as we speak, waiting for the president to come and vote. Senegal is a stable democracy. But it's a very poor country. It exports peanuts. It has some tourism, a little fish, a lot of charm, and very little else.
President Abdoulaye Wade has been in power now for seven years. He came in after 40 years of the socialist government here in Senegal. He said he was going to bring progress, change, development and especially jobs. His opponents say he has failed, that his eye has been on the bigger picture, looking abroad and not doing the things that Senegalese need: bringing water, bringing electricity, and especially employment for the youth.
HANSEN: You talk about Senegal being poor, but the impression is the country works. Does it?
QUIST-ARCTON: It does. Especially when you compare it with other countries in West Africa - Liberia, Sierra Leone, both emerging from a civil war; Guinea, its neighbor, in conflict as we speak. Senegal has been a model democracy. But there's the thousands of young men taking to the high seas, they say in search of a better life and better jobs abroad, many of them dying at sea. and that is the international picture that Senegal has shown over recent months. So the opposition are saying these are the issues he should have dealt with. He has failed in that, and it's time for him to go. But comparatively, yes, Senegal does work.
HANSEN: And turn our attention now to Eastern Chad. Explain for us what's been happening there recently, because some aid groups have been comparing the level of violence there to that of Darfur.
QUIST-ARCTON: Now, when you talk about Chad, you've got to talk about the region - Chad, Sudan across the border where Darfur is located, and the Central African Republic. In this area of Africa, you have three countries which have concurrent rebellions: rebels trying to overthrow the government in Sudan, rebels trying to overthrow President Idriss Deby's government in Chad, and rebels across the border in the Central African Republic also trying to topple the government there. So it is a very turbulent region.
But Darfur is of course the focus of attention in the region. You have had this conflict now for going on four years. More than 200,000 people killed, more than two million displaced. And that has spilled over Darfur's borders into Chad. Now, it's Chadian civilians, who are facing these sorts of attacks by Janjaweed militia, these are Sudanese pro-government militia, but also armed Chadian factions who are attacking civilians. They're being displaced in their tens of thousands from their homes and people are being killed and wounded.
HANSEN: What would be the obstacles to sending peacekeepers to Chad? The U.N. Security Council is considering a peacekeeping force. And what about talks between Sudan and Chad to end this violence?
QUIST-ARCTON: And there are sporadic talks between Sudan and Chad. And each country accuses the other of supporting the others rebel. Chad in principle agrees to U.N. peacekeeping monitors at the border, Central African Republic as well. But it is Sudan, which has been really opposed to U.N. peacekeepers in Darfur, although the Sudanese President Omar Hasan Ahmad al-Bashir has sort of said he agrees to what he called a hybrid force, U.N. peacekeepers and African Union peacekeepers; that hasn't happened.
The situation continues to deteriorate. More people are being attacked. So we'll have to see what can be deployed when, and whether it will be able to keep the peace. But of course there's no peace to keep at the moment.
HANSEN: NPR's Ofeibea Quist-Arcton. She's speaking with us from Dakar, Senegal, where presidential elections are going on today.
Ofeibea, thank you very much.
QUIST-ARCTON: Always a pleasure.
NPR transcripts are created on a rush deadline by Verb8tm, Inc., an NPR contractor, and produced using a proprietary transcription process developed with NPR. This text may not be in its final form and may be updated or revised in the future. Accuracy and availability may vary. The authoritative record of NPR's programming is the audio record.
Poverty Looms over Senegal's Presidential Vote
Georges Gobet/AFP/Getty Images
A Rapper's Lament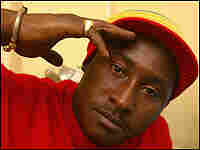 NOTE: Awadi's Web site is in French. To watch a photo slideshow with the site's English translation of the song's lyrics, click on the link and then click on the British Union Jack flag at the top of the right-hand side of the screen.
There's a presidential election in Senegal Sunday. The West African nation, with a population of 11 million, is one of Africa's most stable democracies. Yet, for all the political enlightenment, Senegal's economy is so poor that tens of thousands of young men have been leaving the country at an alarming rate.
Has the president lived up to his 2000 election pledges, which included jobs for the youth? His record comes under scrutiny as the Senegalese prepare to vote for their new leader.
President Abdoulaye Wade, now in his 80s, is a veteran politician, but spent most of his career in the opposition before winning the last election in 2000.
The lyrics of a song composed for his campaign say, in part: "Yes, old man, we want more." The president's supporters have sung it throughout a three-week campaign. Wade wants a second term in office, he says, to finish the good work his government has started.
"With President Wade, Senegal has done a lot in seven years," says Cheikh Tidiane Gadio, Senegal's foreign minister and a part of the president's campaign team.
But opponents of the Senegalese president accuse him of failing to tackle poverty and other national priorities.
He has 14 challengers for the job, among them Abdoulaye Bathily.
"He mismanaged the country," Bathily says. "The level of corruption has never been reached in this country. The economy is in havoc. His chaotic manner of ruling the country has created today a crisis — political crisis, economic crisis, social crisis, identity crisis."
And a critical social problem — one that has drawn international attention — is the drama of thousands of young Senegalese men trying to leave the country.
A Senegalese rapper, Awadi, has a song called Sunuugall, or "Our Boat." It draws attention to the rickety, wooden fishing boats that carry young men off onto the high seas, on perilous voyages heading for the Spanish Canary Islands, in search of a better life.
Awadi says Senegal's leaders have killed the hopes of the younger generation.
"They made a lot of promises, but it's a real disappointment," he says. "They promised jobs, but there is only unemployment.