Amos Lee: Slow, Simple and Dark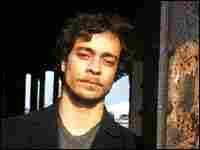 Set List
"Freedom"
"Careless"
"Shout Out Loud"
"Truth"
A singer-songwriter who takes his inspiration from the soul and folk artists of the '70s — John Prine, Neil Young, James Taylor, Bill Withers — Amos Lee first gained wide recognition when he toured with Norah Jones in 2004.
Sometime after giving up his job as an elementary-school teacher to pursue a career as a musician, Lee released his eponymous debut album; on his sophomore release (2006's Supply and Demand), he tackles the issues of money, success and power. The new album retains his mixture of folk, soul and jazz, and also asserts his versatility with slow, simple, dark melodies. Here, Lee talks about touring with Bob Dylan, Merle Haggard and Paul Simon and watching how they work with their bands.
Support XPN
Stories like these are made possible by contributions from readers and listeners like you.