Ethanol Demand, Prices Boost Farm Communities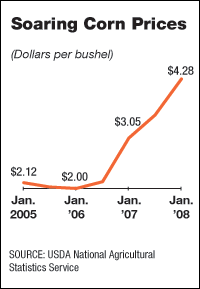 While much of the country frets about falling real estate prices and a slowing economy, parts of rural America are experiencing the exact opposite. In the Corn Belt of the Northern Plains, the growing demand for ethanol and record commodity prices are helping some small agricultural communities flourish.
Northwest Iowa is corn country. Farms covering tens of thousands of acres roll gently across the undulating landscape. Even now, in winter, cornstalk stubble pokes through the snow.
The price of corn has more than doubled in the past two years, and places like Galva, Iowa, are benefiting.
Part of the reason for the run-up in corn prices is the almost insatiable demand from the region's ethanol plants. At Quad County Corn Processors, dozens of tractor-trailers arrive each day.
The golden kernels spill from the bellies of the trucks into the plant's receiving pits.
"We grind about 32,000 to 33,000 bushels of corn a day," says Mike Jerke, the general manager. "The plant runs 24/7. We are running all the time."
This plant opened in 2002. Each month, it converts nearly a million bushels of corn into almost 3 million gallons of ethanol.
For decades, this was just farm country. Galva has a population of less than 400 people. And it's still predominantly an agricultural community, but Jerke says biofuels are transforming this part of Iowa.
In addition to the ethanol plant, a dry-ice facility has opened, and a biodiesel plant and soybean-crushing facility are under construction nearby.
"It's really changed agriculture," Jerke says. "It's just one of those quantum shifts in how things happen."
A few miles west of Galva, Brian Friedrichsen runs a 2,400-acre farm with his brother and sons. The Quad County ethanol plant is cooperatively owned by several hundred local farmers, and Friedrichsen is one of them.
Buoyed by mandates for ethanol use and a federal subsidy of about 51 cents a gallon, the plant has been extremely profitable. Six years after it opened, investors have more than doubled their money.
But Friedrichsen says there are two other key benefits to the plant: It gives him a local market for his corn, and the corn mash residue that's a byproduct of the ethanol process is high in protein and makes an excellent cattle feed.
"We are able to utilize the co-products from the ethanol plant, and so we've expanded our cattle operation a little bit every year for the last four years," Friedrichsen says.
He says the feed from the ethanol plant cuts his costs by $40 to $50 per steer each year, saving him at least $200,000 annually.
Friedrichsen estimates that the number of cattle being raised in the area has tripled as a direct result of the ethanol facility.
Farmland is also shooting up in value. A nearby farm sold last year for almost $7,000 an acre. Before the ethanol boom, an acre of farmland here would often go for less than $2,000.
About 30 miles northwest of Galva, the town of Marcus is also riding the biofuels boom. It has an ethanol plant, and a biodiesel plant is under construction.
"Now we are in the process of building a motel on the outskirts of our town," Marcus Mayor Darrell Downs says. "We were able to open up a business park."
Downs adds that a truck stop just opened nearby. These things are a big deal for a town of 1,100 people.
"I'm a great believer in renewable energy," he says. "I know there's pros and cons on it, but for rural America, it's been a great thing."
Downs says that as long as Washington mandates the use of biofuels like these, the future is looking bright. And for the first time in decades, he adds, young families are moving back to rural Iowa rather than moving away from it.