Fed's Rate Cut Affects Borrowers, Savers
The Federal Reserve on Tuesday slashed a key interest rate by three-quarters of a point, making it cheaper for banks to borrow. Banks may eventually pass the savings to consumers in the form of lower interest rates for loans, but the interest that consumers earn on savings can also go down.
STEVE INSKEEP, host:
The Federal Reserve does not directly control the interest rate you pay for a home or a car. But when the Fed makes it cheaper for banks to borrow, the banks may eventually pass on these savings to you in the form of lower interest rates. That's the good news.
The less good news is that when interest rates go down, that may also reduce the interest rate that you earn when you put your money in the bank. NPR's Scott Horsley reports.
SCOTT HORSLEY: Ron Araujo is not as famous as Ben Bernanke, but he wields his own kind of power. Araujo is chief financial officer at Mission Federal Credit Union in San Diego. So he's responsible for watching what the Fed does and then adjusting interest rates for the credit union's 130,000 members.
Mr. RON ARAUJO (Chief Financial Officer, Mission Federal Credit Union): It takes about a day or two to actually get those in. So you'll see rate changes probably Thursday and Friday for most credit unions and banks. And, you know, it likely means rates are going lower. And certainly, they've gone lower each -in the last three months, they've gone down significantly.
HORSLEY: The Fed's three-quarter point rate cut yesterday primarily affects short-term interest rates. So interest on a 30-year fixed mortgage, for example, isn't likely to respond. But the rate cute could mean big savings for people with adjustable mortgages.
Homeowners with adjustable loans due to reset this year could see an actual drop in their monthly payments, or at least a smaller increase than their neighbors, whose mortgages reset last year.
Mr. ARAUJO: You know, it's going to be one-and-a-half, maybe two points less painful than it might have been just, you know, back in September or October.
HORSLEY: The rate cut could also mean savings for borrowers with other kinds of short-term debt, like home equity lines of credit, or car loans. The Fed slashed interest rates by two full percentage points since the beginning of the year.
Mr. ARAUJO: A lot of people found their dream car in January. If you got a dream car in January and you've got a 6 percent loan associated with that, you can probably do much better than that already, even in just such a short time period. So you got the dream car, time to get into the dream loan is kind of what we're saying.
HORSLEY: Stephanie Laura(ph) dropped by the credit union yesterday to talk about her car loan. She's also hoping the Fed's action will mean lower payments on her credit cards.
Ms. STEPHANIE LAURA: I have several different credit cards. So I'm waiting to get my new statements and see the difference that it makes.
HORSLEY: Most credit cards do carry variable interest rates that should come down as a result of the Fed's move. But cardholders who are close to their credit, who've missed payments, or who routinely pay only the minimum may not see the benefit. Customers who have the best credit history will get the best deals on credit cards, and Araujo says it pays to shop around.
Mr. ARAUJO: For the most part, people with good credit are going - people who pay off their cards on a regular, on a monthly basis are certainly going to do well. There are promotions out there that will allow you to transfer balances at zero percent for six months. Those opportunities are available to a select group, but I think that those kinds of opportunities are out there.
HORSLEY: The Fed is hoping consumers and businesses will take advantage of those opportunities to borrow more, buy more, and prop up the sagging economy. But lower rates also carry a downside for those who are trying to save money. Savings accounts at the credit union were already paying a measly 1 percent interest rate before yesterday's Fed action. Araujo says for those who have to live on their savings or certificates of deposit, it's a tough spot to be in.
Mr. ARAUJO: And unfortunately, the way the markets have gone, they're now looking at perhaps a two-and-a-half or three percent return on their certificate when they've maybe just sniffed at a four percent just a couple of months ago.
HORSLEY: Branch manager Maria Tomasello(ph) says some frustrated customers have already pulled money out of the credit union and turned to Internet banks, where interest rates are somewhat higher.
Ms. MARIA TOMASELLO (Branch Manager, Mission Federal Credit Union): And a lot of them are very conservative members that wouldn't have considered maybe like an Internet bank, like, you know, like an IMG or a Capital One. But now they are turning to it because the rates are just really high.
HORSLEY: Even at those Internet banks, though, interest rates are not as high as they used to be now that the Fed has cut its rate to the lowest level in more than three years. For savers, it's a double whammy, because the rate cut also opens the door to more inflation. So they may face higher prices, even while their money is earning less. Scott Horsley, NPR News.
INSKEEP: There's a chart here at npr.org. It helps to see how the Fed has changed rates in reaction to the economic crises. And you can find it at our Web site.
NPR transcripts are created on a rush deadline by Verb8tm, Inc., an NPR contractor, and produced using a proprietary transcription process developed with NPR. This text may not be in its final form and may be updated or revised in the future. Accuracy and availability may vary. The authoritative record of NPR's programming is the audio record.
Shedding Light on the Latest Fed Rate Cut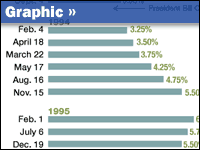 Hiroko Masuike/Getty Images
The Federal Reserve policymakers on Tuesday cut the federal funds rate by three-quarters of a percentage point, less than what many in the financial markets wanted. But it was still an aggressive move by historic standards, and it underscores how concerned most Fed officials are about the economic slowdown.
In cutting the federal funds rate, the Fed said the outlook for economic activity had weakened: Consumer spending has slowed and labor markets have softened. Meanwhile, credit conditions have tightened and housing activity has contracted. All of these conditions are likely to weigh on growth for months ahead.
The rate cut follows a weekend in which the Fed extended credit to new kinds of financial institutions and engineered the bailout of investment bank Bear Stearns.
"The Fed is using sort of the blunt force of a funds rate cut to help provide growth for the economy. At the same time, [the Fed is] augmenting that with these other very specific types of activities to provide liquidity where it's needed most," says Stuart Hoffman, chief economist at PNC Financial Services.
In its statement on Tuesday, the Fed said downside risks to economic growth remain, which is usually taken by economists to mean the Fed may cut rates even further. But the statement included some anxious words about price pressures: It said inflation has been elevated and some indicators of inflation expectations have risen. That suggests some Fed members may have been ambivalent about the size of the cut.
And indeed, two members dissented, saying they wanted less aggressive moves.
"When you get two dissents, this was probably a very dicey discussion," says Hoffman.
A Mistake?
Tuesday's cut is the second of the same size this year. It brings the rate down to 2.25 percent. The rate was 5.25 percent as recently as last September.
Fed officials are hoping that by making money cheaper to borrow, they'll encourage investment and keep the economy from tipping into a recession — if it's not already there.
But economist Richard Yamarone of Argus Research believes the cuts in interest rates are a mistake. He says the problem right now isn't that money is too expensive. Instead, Yamarone says the real problem is widespread mortgage-market losses, which have hurt confidence in the major banks and made people nervous about investing in the U.S. economy.
"Many of these balance sheets in these Wall Street trading firms have worthless paper, and the Fed cutting the federal funds rate by 75 basis points is not going to cure that," he says.
Yamarone says people aren't going to invest their money if they are worried about the economy, no matter how low interest rates fall. And he says the steady drop in rates may actually hurt the economy in the long run.
Federal Reserve officials kept interest rates artificially low after the Sept. 11, 2001, terrorist attacks and that helped create the housing bubble. Yamarone says the same thing may be happening now.
"Excessive rate cuts like this are what brought the hangover," according to Yamarone, and the Fed "just gave us a little hair of the dog that bit us."
But that's a minority view right now. Most economists say the sharp slowdown in growth and the troubles in the banking sector represent a big threat to the economy. Fed policymakers, they say, need to do whatever it takes to avert that.