Are We Doomed? Why Civilizations Like Ours Fall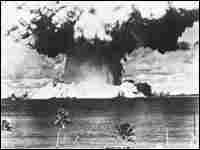 Are we doomed? Debora MacKenzie, the author of a recent New Scientist cover story, says our survival depends on how connected we are to each other.
"A civilization is a system whereby people get what they need. They get the basics of life — food, water, shelter, civil order, and some kind of satisfaction," she argues. "When they fall is when they can no longer meet their people's basic needs using the mechanisms that have evolved.
MacKenzie says it all comes down to how complex and interconnected your civilization is. Hierarchies tend to create increasing levels of bureaucracy, each serving in part to deal with problems created by the other levels. When the situation becomes too complex to manage, she says, "you turn into a network where the decision-making is sort of decentralized."
Consider the food supply of New York City, for example. Every day, truck drivers bring groceries to stores across a vast region. They're responding to the forces of supply and demand, not to a centralized government authority. You might think a self-regulating network would be resilient. "The trouble is there are unexpected fragilities in those networks," she says. "You hit them at one place, and the shock just transmits through the whole system."
She cites an old adage that civilization is four meals away from anarchy. She admits to being known around her newsroom as the "doomsday correspondent," and she intends to be prepared for the worst. "I've covered bird flu for a while, so I have some food in the basement," she reports. "I don't have any illusions."