Why a Space Rock May Fetch $3 Million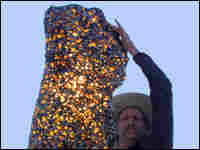 Today's a big day for Marvin Killgore. If all goes as planned, the plumber-turned-meteorite hunter will see the most prized piece in his personal meteorite collection auctioned off at Bonham's for nearly $3 million.
Six months ago a similar auction failed to find a buyer for two pricey meteorites. But Killgore, a curator at the University of Arizona's Southwest Meteorite Center, says his space rock is different.
"I've been around the world, and I've seen most of the public collections and a major portion of the private," Killgore says. "Looking at all the thousands and thousands of specimens, this one totally outshines any other meteorite I've ever seen."
The Fukang meteorite is named after the town in China near where it was discovered. Fifty percent nickel iron and 50 percent peridot — a yellow-green gemstone also known as olivine — the rock weighed more than a ton before it was cut in half. Killgore says the cut face on the largest remaining portion is 36 inches wide and 18 inches deep and tall.
"It's just gorgeous to stand and look at it," Killgore says. "I drove here. I brought the thing in my truck, because I didn't want to ship it."