Clinton's Ex-Pastor Weighs In on Her Exit, Next Step
The Rev. Don Jones, former youth pastor at First United Methodist Church in Park Ridge, Ill., the childhood church of Sen. Hillary Clinton, says he'll follow Clinton's lead in supporting Barack Obama now that she has lost the nomination.
Clinton has said that Jones, an early spiritual adviser to Clinton in the 1960s, inspired her greatly when he took her to see Dr. Martin Luther King Jr. speak in Chicago in 1963.
"I'm obviously deeply saddened and disappointed in Hillary's very close loss, and of course some of that feeling is due to my friendship bias and my strong affection for her," Jones tells guest host Audie Cornish. "But I'm also saddened and disappointed because of what the American people will miss out on, in not having one of the finest and most qualified persons ever to run for the presidency and be the very first woman in the office — but I will give my whole-hearted support for Obama."
Jones says he can only speculate about what Clinton's next move might be.
"I'm guessing, and I'm acutally hoping, that she remains in the Senate, because I think she could probably do more good and achieve more of her social reformist goals in that position of power, rather than the vice presidency or secretary of state, even."
He says he hopes her colleagues in the Senate will reward her with being the majority leader: "There I think she could do the most good."
Clinton Exits Race, Vows to Fully Support Obama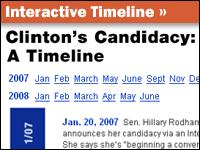 The one-time "inevitable" candidate for the Democratic presidential nomination ended her campaign Saturday with an unequivocal endorsement of her rival.
Addressing a boisterous, passionate crowd at the National Building Museum in Washington, D.C., Hillary Clinton urged her supporters to join her in helping Barack Obama win the White House.
"The way to continue our fight now, to accomplish the goals for which we stand, is to take our energy, our passion, our strength and do all we can to help elect Barack Obama the next president of the United States," she said.
Making History
It was the final pageant of Clinton's historic run for the presidency, and her supporters began lining up at dawn to see it. Some Obama supporters joined them in a show of Democratic Party unity, which was what the event was ultimately all about.
Clinton arrived about a half-hour late, accompanied by her husband, former president Bill Clinton, and their daughter, Chelsea, all three of them dressed in black. Despite the funereal attire and disappointing conclusion to her candidacy, Hillary Clinton celebrated the history she'd made.
"When I was asked what it means to be a woman running for president, I always gave the same answer: that I was proud to be running as a woman, but I was running because I thought I'd be the best president," she said. She acknowledged, however, that she did face "barriers and biases."
"You can be so proud," she told the cheering crowd, "that, from now on, it will be unremarkable for a woman to win primary state victories, unremarkable to have a woman in a close race to be our nominee, unremarkable to think that a woman can be the president of the United States. And that is truly remarkable, my friends."
Clinton likewise acknowledged the historic significance of Barack Obama becoming the first African-American to be the presidential nominee of a major party. Calling this a "turning-point election," she said, "When we first started, people everywhere asked the same questions: Could a woman really serve as commander-in-chief? Well, I think we answered that one. And, could an African-American really be our president? Sen. Obama has answered that one. Together, Sen. Obama and I achieved milestones essential to our progress as a nation, part of our perpetual duty to form a more perfect union."
Clinton was frequently interrupted by cheers. Those were accompanied by a smattering of boos when she asked the crowd to join her in supporting Obama.
Shifting allegiances was still a work-in-progress for some of them. "I'm getting there," said 61-year-old Marti Haub. She confessed she'd been "hoping for some kind of a miracle" that would get Clinton on the ticket. But she accepted that Democrats had to coalesce around Obama and said, "I'm a Democrat and always have been."
Party Unity
Clinton said the Democratic Party was like a family, and "it's now time to restore the ties that bind us together and to come together around the ideals we share, the values we cherish and the country we love."
To show the new-found good will, Clinton's campaign Web site now says: "Support Senator Obama today." Likewise Obama's Web site urges his supporters to e-mail their thanks to Hillary Clinton.
The Long Goodbye
It's been a long goodbye for the former front-runner. Clinton fell hopelessly behind in the delegate count in February when she lost 11 straight contests to Obama. Even her later victories in some large swing states like Pennsylvania and Ohio weren't enough to undo the damage.
On June 3, when the exhausting, hard-fought race drew to a close, she still was unable to acknowledge that Obama had secured enough delegates to win the nomination. That night she told supporters she was making no decision about the future of her campaign and continued to press her highly debatable argument that she'd won the popular vote. She was widely criticized for failing to support Obama as the presumptive nominee right then and there.
But by Thursday, Clinton was ready to meet with Obama one-on-one, face-to-face. California Sen. Dianne Feinstein, a Clinton supporter, lent her Washington, D.C., home for that event. There's been no word about what was said in the hour-long meeting. A joint statement from the Clinton and Obama campaigns said simply: "Senator Clinton and Senator Obama met tonight and had a productive discussion about the important work that needs to be done to succeed in November."
Looking Ahead
Obama released a statement on Saturday declaring himself "thrilled and honored to have Senator Clinton's support."
"Our party and our country are stronger because of the work she has done throughout her life," he continued, "and I'm a better candidate for having had the privilege of competing with her in this campaign. ... No one knows better than Senator Clinton how desperately America and the American people need change, and I know she will continue to be in the forefront of that battle this fall and for years to come."
For her part, Clinton gave no inkling that she was angling to be Obama's running mate, something she's previously said she'd be open to and something that many of her backers want. Instead, she urged her supporters not to think "if only" or "what if."
"Don't go there," she said. "Every moment wasted looking back keeps us from moving forward."
And to show just how much she was getting with the Obama program, she even tried to inspire the crowd with his signature slogan, "Yes, we can." Unlike the crowds at Obama's rallies, however, none of Hillary Clinton's supporters took up the chant.