Minneapolis Lures Buyers for Foreclosed Homes
Second of a two-part report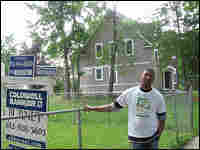 After Lynn Albright survived a bout with breast cancer, she decided it was time to pursue some of those things she'd been dreaming about for a long time but hadn't gotten around to. High up on her agenda: buying a house for her and her 23-year-old daughter.
Albright settled on a three-bedroom, two-story stucco house in North Minneapolis that, like hundreds of properties in the area, had fallen into foreclosure. She liked the homey porch and the lack of wasted space in the layout.
And then there was the price. The house, which sold for $215,000 two years ago, was on the market for just $49,000. If she agrees to stay for five years, the city and federal governments and a neighborhood group will give her an additional $25,000 toward the purchase price, bringing her total mortgage, with a renovation loan, down to $42,000.
"It's pretty amazing," she says.
City Buying Houses
The financial incentives are part of an effort by Minneapolis to lure as many stable, working families as possible back to the North Side. The area is being imperiled by a huge glut of foreclosed properties sitting empty and in disrepair. Many act as magnets for crime, scaring off potential homebuyers and further depressing already-low property values.
"We'd like to see homeowners come back into these homes, stay in the neighborhood, help us rebuild the community, get involved in the schools, and that really is the ideal scenario," says Minneapolis Housing Director Tom Streitz.
Among the steps the city is taking is to buy up as many foreclosed homes as it can: tearing down and rebuilding some, and renovating and reselling others. The funds to acquire such properties are limited, but the city hopes it can make a difference in some neighborhoods by being as strategic as possible in its purchases.
"If we can take care of one or two or even three houses on a block, and it'll help tip the entire block into stability, that's a huge, huge win," says Stephanie Gruver, special projects coordinator for the Greater Metropolitan Housing Corporation, a business-sponsored nonprofit corporation, which is actually acquiring the properties.
Competing Against Private Investors
But the city is increasingly finding itself outbid by private investors. As of early June, GMHC had bid on 74 houses, but had succeeded in winning only 57. While that may not seem like a bad record, city officials worry about what is happening to the properties it loses out on.
With so many inexpensive properties on the market, a new wave of investors is being drawn into North Minneapolis, buying up houses to rent cheaply, often using subsidized government rental programs, says Roberta Englund, who heads two neighborhood groups.
The risk is that North Minneapolis will become even more heavily concentrated with poor and disadvantaged residents than it is now, she says.
"We have people who did buy and today are buying the worst kinds of properties for the least amount of money, to cash-flow at the greatest rate, to house people who have no other choices," Englund says.
"What we'd like to see is these single-family homes reoccupied by homeowners," says Streitz, the Minneapolis housing director.
The city's not opposed to low-income renters, he insists. But it has learned that single-family houses can be difficult rental properties to manage, and if they're not properly maintained, they can easily fall into disrepair, he says.
"We want responsible property owners and, frankly, professional managers managing these houses," he says.
Program Has Doubters
To some critics, the notion that the city can succeed in luring working families back to North Minneapolis is something of a pipe dream.
"Why would somebody live in North Minneapolis, with all the drugs and crime going on?" asks landlord Howie Gangestad, who has a long history of clashing with the city over the condition of the low-income properties he rents.
Anyone who can afford a nicer house will steer clear of the area, he says. "The reason they're over here is that I'm the only person in the world who will rent to them, and if I don't, where in the world are they going to go?"
Still, city officials say they've had some initial success. As of a week ago, about 50 people had applied to Minneapolis Advantage, a program that provides mortgage subsidies for people willing to move into streets where foreclosures have occurred, regardless of their income.
Among them is Albright. She acknowledges that friends and relatives were fearful for her safety when she announced that she and her daughter were moving to North Minneapolis, which has a reputation for crime.
But she liked the quiet, shady streets, and the sound of birds singing that greets her each morning. And she's found her neighbors to be friendly and welcoming.
"One of the first things they asked me was, 'Are you a renter or an owner?'" Albright says. "And they were very happy I was an owner."