In Obama vs. McCain, It's Bumper vs. Bumper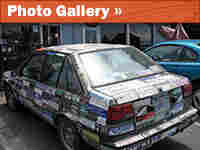 Stand on any corner, in any city or town, and sooner or later you'll see at least one bumper sticker expressing support for Democratic Sen. Barack Obama and one for Republican Sen. John McCain. But does a bumper sticker define a campaign? Or does a campaign define its bumper stickers?
This political season has proved to be one in which bumper stickers are particularly plentiful. The candidates' own Web sites each have a number for sale. Obama's offerings are diverse and specific: "African Americans for Obama," "Moms for Obama," "Asian American Pacific Islanders for Obama," "Republicans for Obama." McCain's offerings are more traditional and broad: "McCain for President," "John McCain, www.johnmccain.com," "McCain for President '08."
Scott Simon talks with Bruce Newman, professor of marketing at DePaul University, about what these different approaches might mean about the candidates, and their constituencies.