Iowa Farming Couple Escapes Floods, But Not Worry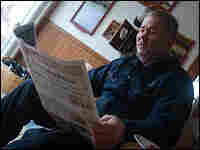 Elena Rue/Center for Documentary Studies at Duke University
Elena Rue/Center for Documentary Studies at Duke University
Elena Rue/Center for Documentary Studies at Duke University
American Family Farms
Learn more about the Griffieon family farm in Iowa and four other family farms included in the public radio series Five Farms.
Craig and LaVon Griffieon are lucky: Their Ankeny, Iowa, farm escaped the heavy rains and flooding that have devastated other towns and farms in their state.
The Griffieons raise corn, soybeans and beef on 1,150 acres on their farm, about 15 miles north of Des Moines. NPR is following the family through a cycle of the seasons. The farm is a safe distance from the Des Moines and Cedar rivers, which have overflowed into Des Moines and Cedar Rapids.
The Griffieons say the rains have been a nuisance, but nothing more.
"We've been pretty lucky right here," Craig Griffieon says from his shop, where he uses a noisy bolt cutter to remove an old bolt from his New Holland hay mower conditioner. "We've kind of missed the big, heavy downpours. In the last three weeks, we've had maybe 3 1/2 inches of rain, and there's places just north of us that have had between 9 and 12 inches of rain. They've got ponds all over, and we've got some little ponds, but nothing that's going to hurt us too much as far as yield."
Griffieon says the spring planting of his corn and soybeans is on schedule. He planted his crops in May and sprayed all but 60 acres of his corn with herbicide by the first of June, before the rains drove him out of his fields.
Although the rain didn't hurt their farm, the floods through the Midwest have raised another issue that worries the family: food prices.
Food Versus Fuel
Food prices reveal the philosophical divide between the Griffieons. The couple follow the weather, as well as the soaring grain prices that are putting food out of reach for some of the world's poorest people. Many analysts say one factor in the food crisis is the U.S. government's embrace of ethanol. The policy means that a growing fraction of the nation's corn crop is fueling American cars, instead of feeding bellies.
The flooding is expected to do substantial damage to Iowa's overall crop production this season, which will exacerbate a global grain shortage.
In the Griffieon kitchen, LaVon reads from The Des Moines Register about a recent United Nations summit meeting aimed at addressing the food crisis. The issue hits close to home, says Craig.
"That's what they taught us in school — that if you were in agriculture, you had to feed the world," he says. "And I don't know the statistics for sure, but back a few years ago, the average size of the farm was like 500 acres, and they figured you fed 100 families."
That talk is outdated, says LaVon. She says that Iowans like to say they live in the food capital of the world, but that's not accurate.
"We're the feed capital of the world," she says. "We're producing corn and soybeans that mostly is ground up to feed livestock. And now we want to transition that to be the fuel capital of the world."
She asks her husband if he can justify turning a food source into a fuel source. Craig hesitates before saying "yes" — as long as there is a surplus of the food source and the demand for ethanol simply increases demand for corn.
"If you look back over the last 30, 40 years, we've had a surplus of grains in this country," Craig says. "And I think even today, if we didn't have the ethanol, we'd still have a surplus of grain. We'd still be down at $1.50 a bushel for corn, or $2, which is below my production cost. But now, with the ethanol taking up the surplus and making more of a demand, the price of our grain is up where I'm making a profit on top of what my cost of production is."
These days, the Griffieons' local elevator, a business that buys and stores grain, is paying about $5.50 for a bushel of corn. Recently, Craig asked where his corn ended up.
"The guy at the elevator couldn't answer the question: 'How much of my corn goes for ethanol, and how much of my corn goes for [livestock] feed?' " LaVon says, adding, "He didn't even talk about food. ... That wasn't part of the equation."
LaVon asks Craig whether he feels like an independent farmer. Craig pauses as he considers the question. "Ah, right now, yes," he says, laughing nervously.
"How's life in Egypt?" LaVon asks her husband. "You're living in denial."