As Domestic Spying Rises, Some Prosecutions Drop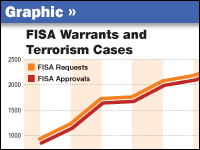 Since Sept. 11, the number of spying warrants approved by the Foreign Intelligence Surveillance Court has more than doubled, according to statistics the Justice Department releases each year.
At the same time, the number of criminal indictments against people associated with Islamist extremist groups has dropped by more than half, according to a recent study by the group Human Rights First.
Current and former officials at the FBI and the Justice Department say those two statistics demonstrate a shift in the way the government is addressing the challenge of terrorism. The officials say the pendulum is swinging from a model that favors criminal prosecutions to one that favors more intelligence gathering.
That intelligence does not necessarily culminate in an indictment. In many cases, these officials say, the government is relying on other ways of addressing terrorist plots besides indictments and trials.
David Laufman used to prosecute terrorism cases as an assistant U.S. attorney in the Eastern District of Virginia. That office handles more terrorism cases than almost anywhere else in the country. When he left government work for private practice a year ago, Laufman says he "didn't see anything coming down the pipeline."
The number of terrorism cases the FBI was referring to the U.S. attorney's office had dropped significantly. Laufman does not think that drop is a result of fewer would-be terrorists operating in the country. Instead, he believes it reflects, "a quiet revolution at the FBI." He says as the FBI has transformed itself into an intelligence agency since Sept. 11, decision makers at the bureau have chosen to continue spying on terrorism suspects "at the expense of preparing cases for potential criminal prosecution down the road."
Former FBI official Michael Woods agrees that the FBI has undergone a revolution, but he would not describe it as a quiet one. Woods was chief of the FBI's national security law unit until 2002, and he says the bureau has been open about "shifting toward a pre-emptive preventative approach," with an "emphasis on preventing future attacks."
Gathering intelligence has become the top priority, Woods says, and while intelligence still occasionally leads to a criminal prosecution, Woods describes criminal prosecutions as "the last tool." He says when prosecutors indict someone, "you start rolling a public process that after a point you can no longer really control. It becomes very public what you knew about this person, and that avenue of gathering more information or creating new sources is kind of cut off."
Government officials say they have other tools to stop terrorist plots that are less public than prosecutions. For example, people can be deported, or recruited as a source. Sometimes if an FBI agent simply knocks on the door and says hello, that can be enough to derail a terrorist plot. But the basic tension remains between when to act and when to wait.
"We're always looking at all these options and we're weighing them," says Pat Rowan, acting assistant attorney general for the Justice Department's National Security Division. Rowan disputes the notion that the FBI is sacrificing prosecutions to prolong investigations.
"I don't think that I've been exposed to an instance where the FBI has said 'OK, well, perhaps if we did a lot of work down this road we'd be able to build a criminal case, but we're not going to pursue that because we're too busy collecting intelligence,' " he says.
FBI officials, however, acknowledge that they "will forgo a law enforcement action in furtherance of continuing to collect positive intelligence." Michael Heimbach is assistant director of the FBI's counterterrorism division. He says it's always a subjective decision when to bring a prosecution and when to continue intelligence gathering.
That decision is made through "a very collegial process," Heimbach says, "where myself [and] my team, along with the Justice team, will converge, meet, discuss the pros and cons, and at the end of the day, we'll come up with a common solution of what's the best endgame here."
People who have left the government say it's not always that collegial.
"There were certainly times when you felt like you were at loggerheads," says David Deitch, who used to be a prosecutor in the Justice Department's counterterrorism section. He says if the FBI was unwilling to declassify information, "that could be a stumbling block and sometimes an insurmountable one to going forward with a prosecution."
As the balance shifts from prosecuting to investigating and back again, there are two opposing risks. One is that the FBI will watch people for too long, and terrorists will carry out a plot. The other is that prosecutors will bring charges too soon. They won't have a case, and they may miss a bigger plot.
Former prosecutor Laufman believes at this point, the FBI is erring on the side of waiting too long.
"There is a widely held frustration among counterterrorism agents in the FBI and many prosecutors that the pendulum has swung too far in favor of intelligence gathering," he says.
Former FBI official Woods is not surprised to hear that people feel frustrated. He says in the 1990s, "there was a lot of frustration in the FBI intelligence circles about the pendulum swinging too far in the direction of prosecutions." Woods says the pendulum keeps swinging, and half the people are always going to be unhappy.